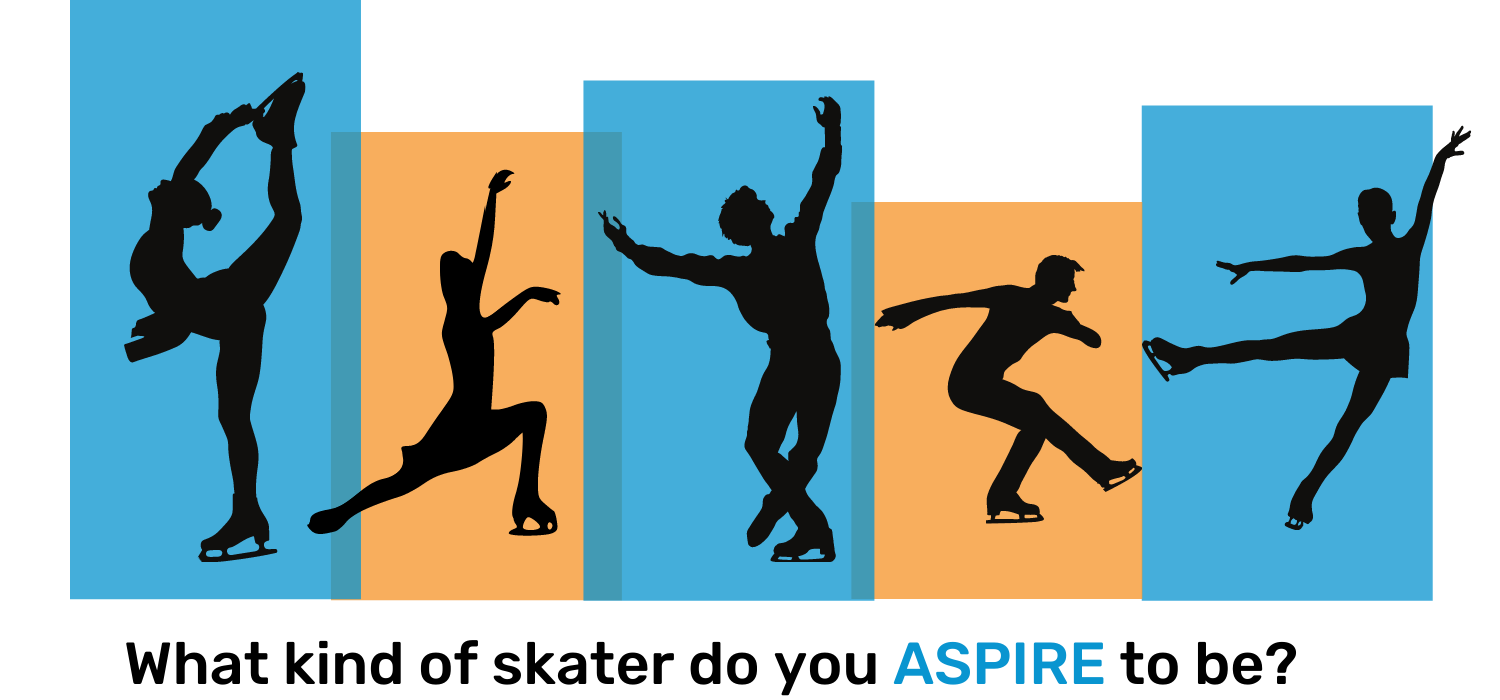 Aspire is coming to Cool Sports in June 2021!
Get ready for something BIG! Something FUN! Something specifically for those skaters who have graduated from Basic Skills! Aspire, a U.S. Figure Skating program is coming to Cool Sports! The Aspire program marks the transition from skater to figure skater and teaches athletes of all ages the skills they need to make the most out of their figure skating journey.
Here is a sample of what Aspire skaters can look forward to:
On-Ice Aspire Class

Skating skills (including edges and power skating)
Jumps and spins
Introduction to Moves in the Field (your first USFS test)
On-Ice Aspire Enhancement Clinics 
Learn to compete
Beginning ice dancing
Intro to synchro skills
Artistry in Motion: choreography and movement
Intro to Theatre on Ice
Off-Ice Aspire Class
Dynamic warm-up
Physical literacy
Agility, balance, and coordination
Functional strength training
Flexibility
Plyometrics and off-ice jumps
Movement and musical interpretation
Off-Ice Aspire Health and Wellness Class
Long-term athlete development
Proper nutrition and hydration
Practice planning/tracking
Goal setting
Sportsmanship
Self-confident and perseverance
Mental preparation
SafeSport education
Social activities
ISI to Aspire Comparison
Coming to us from an ISI program? Keep in mind, the two programs do not match exactly, so this chart is only an approximate level to start. If you have questions, ask a coach. If you have passed ISI Freestyle 5, look into our Advanced Figure Skating options.
If you are in Basic Skills, check out our Learn to Skate program.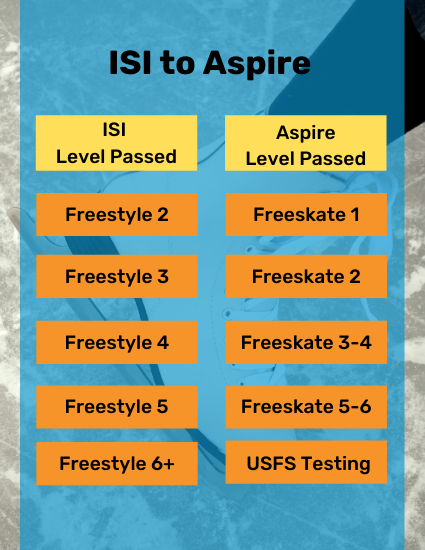 Cool Sports is a proud member of Learn to Skate USA, USA Hockey and I.S.I.!
Booster lessons are mini private lessons designed to give a "boost" with one-on-one instruction. These lessons are scheduled during public or freestyle sessions and lessons can be used to prepare for evaluations or to work on a maneuver that skaters may be struggling with. The lessons can also be used to learn new maneuvers or to get an idea of what private lessons are all about. You can speak to a coach of your choice directly to set up a lesson or contact our director to be paired with a coach.
15 minute private lessons will range $10 – $20
30 minute private lessons will range $20 – $40
Siblings receive $10 off each additional registration after one full-price registration.