Learn to Skate USA
Welcome to Learn to Skate USA, a U.S. Figure Skating Program!  Cool Sports is proud to host this program for skaters of all ages and skating levels, knowing that skating skills are the essential common key for participants of all ice sports.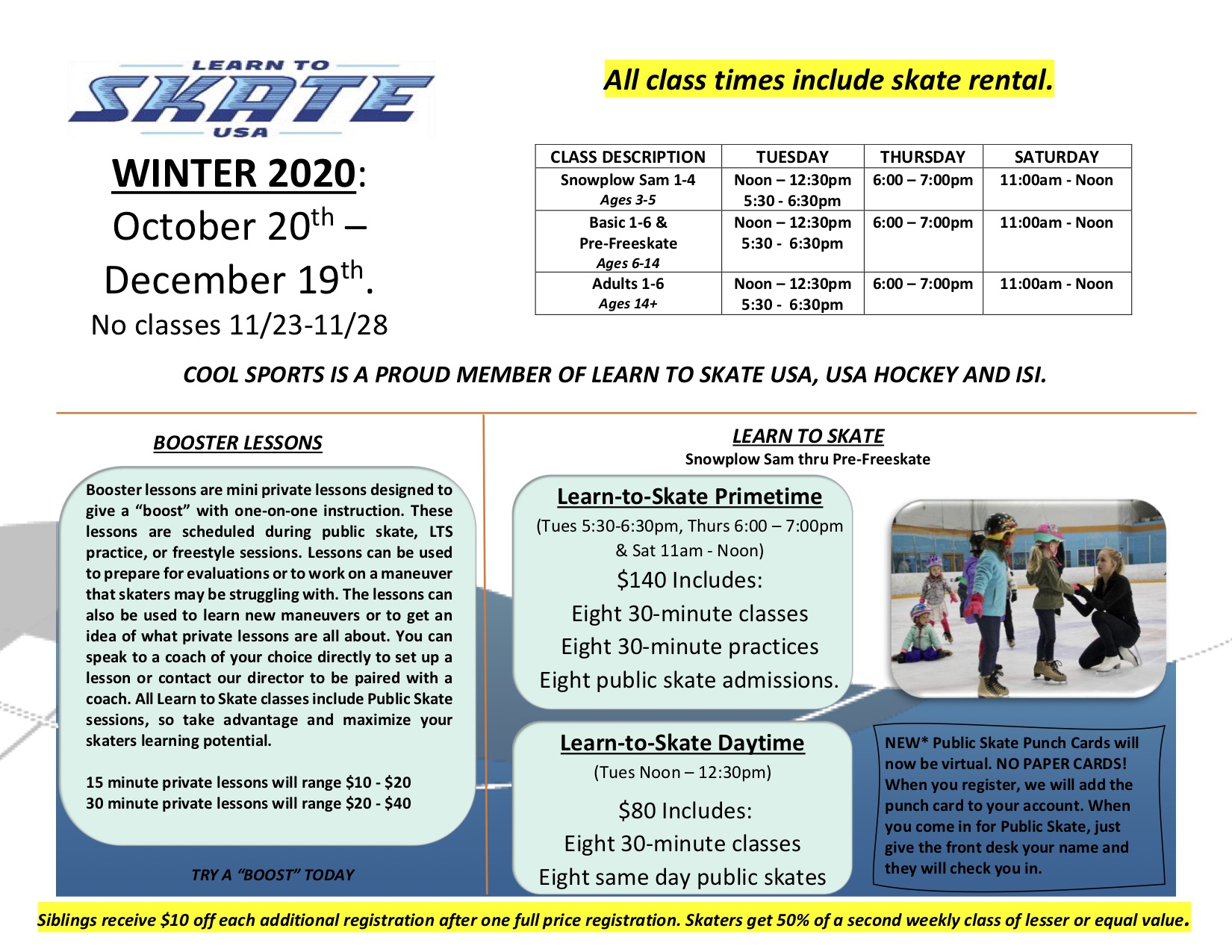 Additional lesson options
Booster lessons are mini private lessons designed to give a "boost" with one-on-one instruction. These lessons are scheduled during public or freestyle sessions and lessons can be used to prepare for evaluations or to work on a maneuver that skaters may be struggling with. The lessons can also be used to learn new maneuvers or to get an idea of what private lessons are all about. You can speak to a coach of your choice directly to set up a lesson or contact our director to be paired with a coach. 
15 minute private lessons will range $10 – $20
30 minute private lessons will range $20 – $40
Private instruction may be added to your skating agenda along with group classes at any time.  Contact the Skating Director to learn more about "booster lessons".  Click here for additional information about the Learn to Skate USA program at Cool Sports.
STEP 1
Register with US Figure Skating between July 1st – June 30th.  A one-time annual fee of $16 (+ tax & fees) will be required in order to participate in the Cool Sports skating program.  Click here to register with US Figure Skating
STEP 2
Enroll in group ice skating lessons @ Cool Sports
This is a very cost effective way to determine if your child is interested in ice skating.  Class packages vary depending on option chosen but all classes include 30 minute lesson and skate rental. Please see the flyer to the right for all the information.
During the final week of the session (not during summer mini sessions) skaters are able bring 1 buddy so they can skate too.  Classes are divided by age & skating ability, and are offered for first-time skaters ages 3–5 (Snowplow Sam), ages 6–12 (Basic 1), and skaters ages 14 & older (Teen / Adult 1).
Once passed, skaters are invited to continue advancing through the Learn To Skate USA program.  Group instruction is offered for skaters in (Basic 2 – Pre-Freeskate) and teen / adults (Teen / Adult 2–6).
Register for all classes at: http://coolsportstn.maxgalaxy.net/BrowseActivities.aspx
STEP 3
Competitions
Competitions can start as early as Snowplow Sam and are offered at Cool Sports in the Summer. To learn more about "How to start competing", contact the Skating Director.